For those bringing children on Sunday morning, we have various age groups set up to ensure your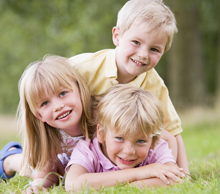 children will be given age appropriate instruction that we pray will sink into their hearts as they mature. We have a nursery, toddler and Sunday school classes for age 3-4, 5-7, and 8-10 (where we use Child Evangelism Fellowship Curriculum).
For those children aged 11-12/13 we have a "tween" class available for those who need more of a basic foundation before joining the adult service. This class emphasizes the need for each of them to have a saving relationship with Jesus. The 2 year curriculum plan prepares the students to have a defense against the lies they will be exposed to in school and among their peers. We provide them with evidence about the reliability of the Bible, give them a big picture overview of the entire bible and show how scientific evidence supports the biblical account of a young earth creation rather than evolution, a global flood, and other apologetic tools that will help them stand firm in their faith as they progress to adulthood.
After completing the Tween series, these youth join their parents in the adult church service.