---
Jonah
"
Now the Lord had prepared a great fish to swallow Jonah. And Jonah was in the belly of the fish three days and three nights
." Jonah 1:17
Most know the biblical story of Jonah, who was swallowed by a great fish but emerged alive three days later. While many dismiss the story as a parable, a careful study shows this book to be a historical narrative that Jesus Himself used as an analogy of His own death and resurrection. The Book of Jonah contains many themes: God's mercy on the repentant, God's sovereignty over creation, and the patience of God with the disobedient, among others. In this study, Pastor Kevin Lea explores the Biblical importance and historical context of this short but profound book.
Suggested Donation $5 1 DVD – 1 Teaching
---
Habakkuk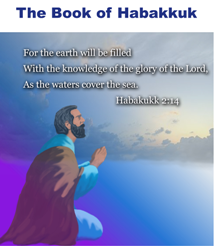 Do you wonder how God can tolerate the immorality, violence, contention, and lawlessness that we see around us today?  Do you ask how things can possibly get much worse, but sense that they will?  The prophet Habakkuk asked these and similar questions more than 2,600 years ago about his own nation of Israel.   In response, God describes in clear detail His coming judgment of the nation's sinfulness.  As Pastor Kevin Lea leads us through this amazing book verse-by-verse, we come to understand the historical context in which Habakkuk wrote as well as the prophetic meaning for his time and our own.  We see that God is just and will judge sin.  At the same time, God will comfort and save those who love Him as they receive His offer of salvation by faith. We are challenged to choose, as did Habakkuk, to trust God.  "Yet I will rejoice in the Lord, I will joy in the God of my salvation." Habakkuk 3:18
Suggested Donation $5 1 DVD – 2 Teachings
---
Luke
Luke is the third of the three Synoptic Gospel accounts. ("Synoptic" means "similar" or "seeing with the same eye") Although Matthew, Mark and Luke are very similar in their relating of the birth, life, ministry, death and resurrection of Jesus, each was written to a different audience.  Luke, a physician, emphasized the humanity of Jesus to his Gentile audience – that Jesus was not just fully God, but also fully Man.
"…He [Jesus] too shared in their humanity so that by His death he might destroy him who holds the power of death—that is, the devil— and free those who all their lives were held in slavery by their fear of death… Because he himself suffered when he was tempted, he is able to help those who are being tempted." Hebrews 2:14b, 18
Suggested Donation $45 9 DVDs – 35 Teachings
---
Acts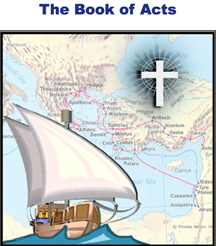 Written by Luke, a Gentile Physician and companion of the Apostle Paul, the Book of Acts documents the early history of the Christian Church.  It covers about 33 years from the ascension of Jesus into heaven until Paul is imprisoned in Rome awaiting his trial before Caesar Nero.
"During my time of preparation for this study, God imparted to me placed a renewed emphasis on how He used His Apostles to maintain a purity of the gospel message and then gave them (especially Paul) the courage to take a stand for the truth, even when it cost them everything. It is my prayer that these studies will create and/or deepen your relationship with Jesus and encourage you to be steadfast in your faith in these last days." Pastor Kevin
Suggested Donation $35  7 DVDs – 25 Teachings
---
1 Corinthians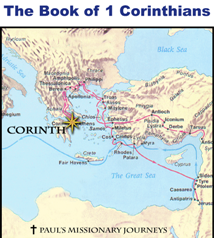 The ancient Grecian city of Corinth was a prosperous, bustling metropolis and a center of trade.  It was also a hub of sexual immorality, vice, and various false religions.  It was in this setting that the Apostle Paul founded the Corinthian church as described in Acts 18:1-18.  In 1 Corinthians, his letter to the now-struggling Corinthian church, the Apostle Paul responds to reports of divisions and immorality creeping into their midst.  He also answers questions from the church about marriage, liberties, worship, and spiritual gifts.  Throughout, Paul proclaims the wisdom and relevance of the Gospel of Christ Jesus to the believer's life, words which are as applicable to us today as to then. 
Suggested Donation $35 7 DVDs – 25 Teachings
---
2 Corinthians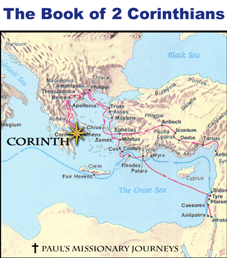 Of all the letters written by the Apostle Paul, 2 Corinthians may have been the most difficult for him to write.  Written to help the this still-struggling church deal with numerous problems, Paul makes a passionate plea for these new believers in Christ to turn away from ungodly behavior and to reject the attacks on the gospel.  Paul's Spirit-inspired words are as timely and relevant to the church today as ever as he challenges his readers to, "Examine yourselves as to whether you are in the faith. Test yourselves." (2 Corinthians 13:5) and "Become complete. Be of good comfort, be of one mind, live in peace; and the God of love and peace will be with you." (2 Corinthians 13:11).
Suggested Donation $15 3 DVDs – 10 Teachings
---
Galatians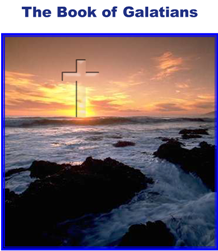 Believed to be the first epistle (letter) written by the Apostle Paul, this book was addressed to the churches of Galatia (located in modern Turkey) after he established them during his first missionary journey.  False teachers had soon arrived after Paul's departure, trying to convince these new gentile believers that faith in Jesus (alone) as their Savior was not sufficient for them to inherit everlasting life, that they also had to observe all the Jewish traditions and rituals in order to be acceptable to God.   In this letter, Paul rebukes the false teachers, reminds the Galatian Christians that those saved by faith in Jesus Christ are no longer under the curse of the law, and exhorts them to use their newfound liberty to serve Jesus in the power of the Spirit. These encouragements are just as applicable today as in Paul's day, and we pray these studies will minister the truth of the gospel to your hearts too.
Suggested Donation $15 3 DVDs – 10 Teachings
---
Philippians
Even while imprisoned in Rome, the Apostle Paul writes to believers at the Philippian church to encourage the them to "Rejoice always!" The words "rejoice" and "joy" appear 12 times in this short epistle. We get a glimpse of Paul triumphing in and through his suffering, and we see the selflessness of both him and his assistant, Epaphroditus. Above all, we see our Savior Jesus, who being in form God, became a man and submitted to death upon a cross. This is the gospel – that God became a man, died a substitutionary death on our behalf, rose from the dead, ascended to heaven, and is coming again!
As we see the Day of the Lord approaching, may this book be an encouragement to you to rejoice, to serve one another, and to look to Jesus, the Name above all Names.
Suggested Donation $5  1 DVD – 2 Teachings
---
1 & 2 Thessalonians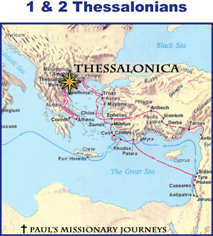 First and Second Thessalonians, two letters by Paul the Apostle to the Church at Thessalonica, contain numerous, unique prophecies pertaining to the last days.  In these two letters, Paul answers with unique clarity many questions about our Lord's Second Coming that are not addressed anywhere else in the New Testament.
"It is my prayer that this DVD will assist you in understanding God's timing so that you will be ready for His coming. I also pray these studies will minister the truth of the gospel to your hearts." Pastor Kevin Lea
Suggested Donation $10 2 DVDs – 5 Teachings