---
Philemon
The brief but poignant letter from the Apostle Paul to his friend Philemon provides a wonderful illustration of God's grace and forgiveness. It is a passionate appeal to Philemon to forgive and welcome back his runaway slave, Onesimus. The story of a slave owner from ancient times and his runaway slave might seem irrelevant to modern times. But when we see how the slave Onesimus recognized that he needed to ask forgiveness of his master, we begin to see the parallels with our own lives. We have all run away from God's love and the debt we owe him. And just as Paul became the mediator between Philemon and Onesimus, our ultimate mediator is Jesus who through Him we can find forgiveness. If you are running away from God's love, we pray that the Book of Philemon will show you true grace and forgiveness.
Suggested Donation $5 1 DVD – 1 Teaching
---
Jude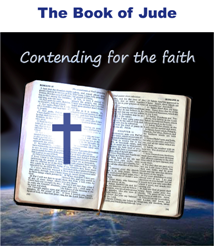 Jude is an urgently-written letter by the half-brother of our Lord to the early church warning against false teachers infiltrating their midst. Using strong examples from the early descendents of Adam through the time of Moses, Jude illustrates man's struggle against sin and God's eventual judgment. The letter is both a warning and a reminder. "Grumblers, complainers, walking according to their own lusts" have down through time twisted God's Word and led many away from the faith. In Jude's time, and ours, many of these ungodly men "have crept in [the church] unnoticed." This book warns believers of all times to beware.
Jude also exhorts believers: "But you, beloved, building yourselves up on your most holy faith, praying in the Holy Spirit, keep yourselves in the love of God, looking for the mercy of our Lord Jesus Christ unto eternal life."
Suggested Donation $5  1 DVD – 1 Teaching
---
Revelation
Blessed is he who reads and those who hear the words of this prophecy, and keep those things which are written in it; for the time is near
. Revelation 1:3
For nearly 2,000 years, the book of Revelation has been regarded by scholars and critics alike as a mysterious conclusion to the Bible. Many think it is so mysterious that it is impossible for readers to understand with any degree of certainty what God was saying through the Apostle John. Does God want the reader to understand this provocative book? It is clear from the first few verses that God does want His servants to understand this prophecy because it explains the events surrounding the Second Coming of our Savior, Jesus. But all serious Bible students agree it is a difficult book to understand.
In this DVD set, Pastor Kevin leads us verse by verse through this last book of the Bible. As we approach the return of Jesus, the mysteries of Revelation are becoming easier to decipher. We pray this set of DVDs will be a blessing to all who join in this study.
Suggested Donation $35  7 DVDs – 21 Teachings
---
The Trinity
Truths about the Triune Nature of God

"The Lord our God, the Lord is one!" Deuteronomy 6:4
The Trinity – Father, Son, and Holy Spirit.  How can one God also be three? Pastor Kevin Lea explores the biblical basis for the trinity in this three-part study. Using verses throughout the entire Bible along with the meaning of the original Hebrew and Greek words, Pastor Kevin shows how God's word makes it clear that both Jesus and the Holy Spirit are equally God. In Jesus' own words (John 8:58), "Most assuredly, I say to you, before Abraham was, I AM." This one statement illustrates Jesus' claim to be equal to the great "I AM" as God described himself to Moses (Exodus 3:14). This and other examples during the course of this study provide ample evidence to challenge skeptics who question the deity of Jesus as well as that of the Holy Spirit. This study that will strengthen the faith of believers and answer the questions of those seeking to understand the God of the Bible. Click here to go to the online audio for this series on the Topical Sermons page. Links to the handouts are listed below the sermon titles.
---
Life More Abundantly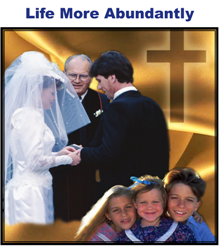 Jesus said, "I have come that they may have life, and that they may have it more abundantly."
John 10:10
Does this promise apply only to the eternal life that true believers in Jesus will have in heaven, or was Jesus saying that we can have abundant life here on earth, too? In this four-sermon series, Pastors Kevin Lea and Jeremy McLellan show that this promise does apply to life with our families here on earth as well – as long as we obey God.  So what does the Bible teach about relationships between husbands, wives, and children?  How can families get back on track if they have been on the road to failure? The Pastorsapply insights gleaned from the Bible and many years of pastoring as they answer these and many other questions from the Word of God. They share practical ways to obey God in the family issues that are hindering many from experiencing the abundant life God has promised to those who love Him.  Our prayer is that this series will assist you in experiencing abundant life now and for all of eternity.
Suggested Donation $10  1 DVD – 4 Teachings
---
---
Why Bethlehem, Shepherds, and Wise Men?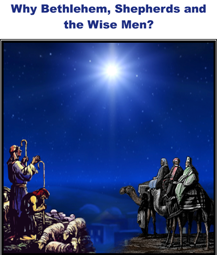 Every Christmas, we celebrate the miraculous birth of a Child born in Bethlehem more than two thousand years ago.  We delight anew in the story of the Baby laying in a manger, the angelic visitation to nearby shepherds, and the wise men from the East who follow a star to worship the Child. However, there is a wondrous tapestry of meaning and significance behind these seeming unconnected details of the birth of our Lord.  In this study, Pastor Kevin Lea uses biblical and extra-biblical historical references to lead us in a fascinating discovery of why God chose Bethlehem for the birth of His Son, why the news of his birth was first heralded to lowly shepherds on a nearby hill, and who the wise men from the East were.  You will develop an even richer love and appreciation for all that we celebrate at Christmas!
Suggested Donation $10  1 DVD – 4 Teachings
---
Job
Job had it all – great wealth and a family to share it with. But unlike many with such power and wealth, Job remained humble and was "blameless and upright, and one who feared God and shunned evil" (Job 1:1). Life was good for Job until one day, for no apparent reason, it was all stripped away.
The Book of Job has inspired readers for centuries with the story of a man with an unshakeable faith in and submission to the greatness of God. Jjoin Pastor Kevin as we explore the limits of human suffering and faith.
Suggested Donation $20  4 DVDs – 15 Teachings
---