You've – Got – To – Be – Kidding!!
Evolutionists Make Incredible Breakthrough in Scientific Knowledge
By Mike Snavely
info@missionimperative.org>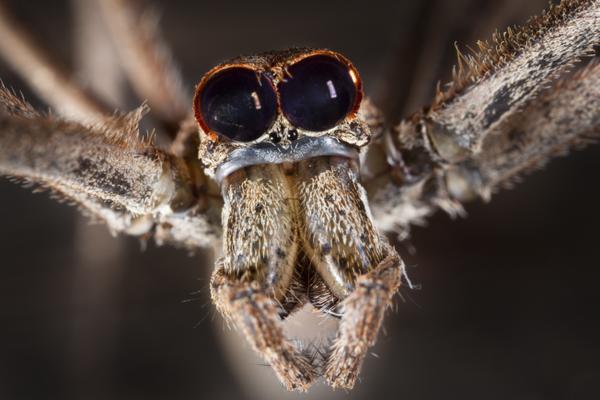 In order to appreciate this e-mail, you have to have read the one from last week entitled, "That Horrible Ogre Face ~ and the miracle behind it". You'll remember this cute little face and the amazing transformation that takes place – DAILY – that allows this little spider to see better than a cat or owl! OK, with that in mind, read now (in a shortened version) about the "research" that has been done to "prove" the evolution of this amazing eyesight….
..."Two researchers have tested the theory that the huge eyes of the net-caster help the spider capture prey at night. They published their paper in the journal, Biology Letters, in which they describe their field and laboratory experiments. Until now, nobody has actually done experiments to understand why the eyes are so big."
(OK, so far, so good. Now, it gets a bit more interesting….)
"To prove the theory that the big eyes evolved to help with night hunting, the two researchers first video-recorded the spiders in their natural habitat. They then captured some samples and applied dental silicone on the eyes to blind them."
(Are you ready?  Wait for it!…. )
"The researchers found that the spiders were much weaker hunters with their eyes blinded. Removing the blinders enabled the spiders to regain their abilities. In a second test, the researchers conducted the same experiments, but this time in a lab. The results were identical. The pair concluded that that their studies showed that the spiders' eyes evolved to help the creature hunt at night." 
So, there you have it! Here are the amazing results of this research…
If you put blinders over a creatures eyes, they can't see. If you remove the blinders, they – amazingly – can see again!
Evolution is proved yet again.
Aren't you excited?
PS – In the same spirit as the above, I'd like to inform you that I'm conducting experiments on a frog that I trained to jump when I say "JUMP!" I'll let you know the results next week….
​​​​​​​PPS – Remember that our video on spiders is available for $10 this month! Use the code SPIDER17 at checkout.
PO Box 264, Cornwall PA 17016