April 5, 2018
By Shih
Note from Pastor Kevin Lea:  Amazing what real, born again Christians in other parts of the world are willing to sacrifice in order to tell others about how to have saving faith in Jesus.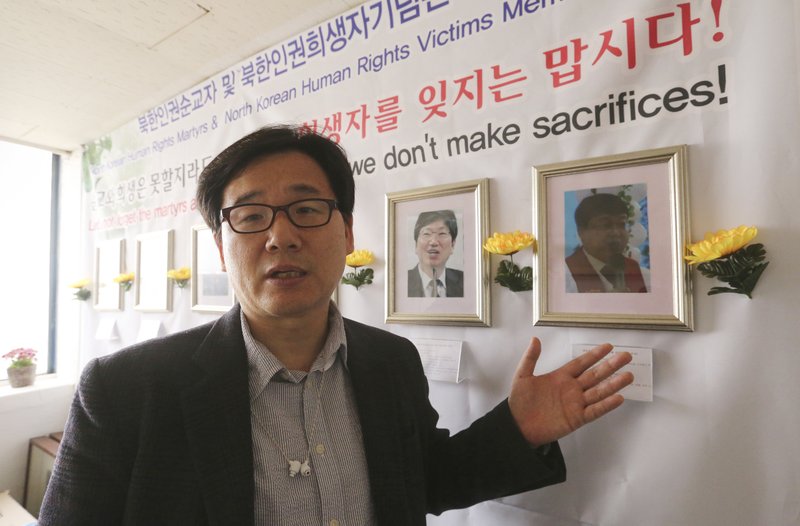 SOUTHERN JILIN PROVINCE, China (AP) — To the North Koreans gathered beneath a crucifix in an apartment in this northeastern Chinese border region, she is known as "mom." She feeds them, gives them a place to stay and, on occasion, money.
In return, the 69-year-old Korean-Chinese woman asks them to study the Bible, pray and sing hymns. She also has a more ambitious, and potentially dangerous, goal: She wants the most trusted of her converts to return to North Korea and spread Christianity there.
Along the North Korean border, dozens of such missionaries are engaged in work that puts them and their North Korean converts in danger. Most are South Koreans, but others, like the woman, are ethnic Koreans whose families have lived in China for generations. In recent years, 10 such front-line missionaries and pastors have died mysteriously, according to the Rev. Kim Kyou Ho, head of the Seoul-based Chosen People Network, a Christian group that runs a memorial hall in the South Korean capital for the victims. North Korea is suspected in all those deaths.
Hundreds of other missionaries have been imprisoned or expelled by China, which bans foreigners from proselytizing.
It is perilous work. Li Baiguang, a Chinese human rights lawyer whose work defending Christian pastors and farmers had prompted repeated death threats, died on Feb. 26, hours after being admitted to a Chinese military hospital for what his relatives described as a minor stomach ailment.
The case has prompted calls for an independent investigation from Amnesty International and the Washington-based National Endowment for Democracy, which noted Li had been "detained and physically attacked many times" for his work and cited reports he had recently appeared to be in good health.
The Korean-Chinese woman said she is monitored by both North Korean and Chinese authorities, yet, despite the risks, has carried out 20 years of missionary work with North Koreans, mostly women who are in China legally after being granted visas to visit relatives living there.
"I always pray and I'm with God, so I'm not worried," said the woman, who despite that assertion asked that her name not be published because of safety concerns for herself, her family and the North Koreans to whom she ministers.
She lives so close to North Korea that it is common to see women doing laundry on the other side of the Yalu River or workers riding bicycles past rundown North Korean buildings just a stone's throw away.
The border missionaries provide their North Korean visitors with room and board, and those escaping with places to hide. In return, they ask them to memorize the Lord's Prayer, the Apostles' Creed and other prayers. Some of the most trusted converts return home to North Korea and covertly share what they've learned, sometimes carrying Bibles.
It's almost impossible to determine what happens when those North Koreans return home to evangelize. From the outside, there is no indication that Christianity has grown in any serious manner in the North in recent years, let alone that it's helping shake North Korean leader Kim Jong Un's power.
The North accuses South Korea's spy agency of using missionaries to gather information about North Korea's secretive nuclear program and other sensitive topics, as well as to smuggle propaganda materials via leaflets, CDs and USB sticks, and to build underground churches to undermine Kim's leadership — allegations the Seoul government strongly denies.
At least two South Korean pastors are detained in the North on such charges.
Officially, North Korea says it guarantees freedom of religion to its 24 million people. But in reality, people involved in Bible distribution, secret prayer services and underground church networks are imprisoned or executed, according to activists and defectors. The North has five government-sanctioned churches in Pyongyang, but critics say they are showpiece facilities opened only for foreign visitors.
Among the missionaries and pastors killed under mysterious circumstances in recent years is the
To read this article in its entirety, go to: https://apnews.com/d04acf4a138545b692ebd530d832c218/Missionaries-at-border-spread-Christianity-to-North-Korea