By Michael Snyder
July 14, 2016
http://www.prophecynewswatch.com/article.cfm?recent_news_id=492
image: http://www.prophecynewswatch.com/images/recent/russiajuly142016.jpg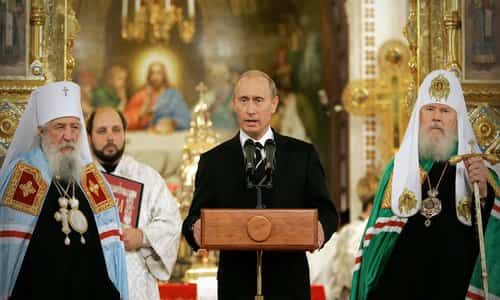 We always knew that this was coming.  For years, the horrifying persecution of Christians in the Middle East has made headlines all over the globe, but now we are seeing very disturbing examples of government-sanctioned persecution literally all over the planet.
As you will read about below, Russia just banned virtually all types of evangelism outside of a church or religious site.  And China has been tearing down thousands of crosses and has been demolishing dozens of churches in a renewed crackdown on the growth of Christianity in that nation.
Overall, there are 53 countries that now have laws that restrict the Christian faith according to one recent report.  When are we going to wake up and realize what is happening?
When I heard about the new law that was just passed in Russia, I was absolutely stunned.  I was in Moscow just a few years after the Berlin Wall fell, and the people were very eager to hear about the Christian faith which had been brutally repressed under the Soviet regime for decades.
Sadly, Russia has now decided to revert back to the old Soviet ways.  Thisnew law, which Vladimir Putin wanted, represents almost a complete and total ban
To read this article in its entirety, go to: http://www.prophecynewswatch.com/article.cfm?recent_news_id=492